Dean Starck and Cizik School of Nursing alumna honored by Nurses With Global Impact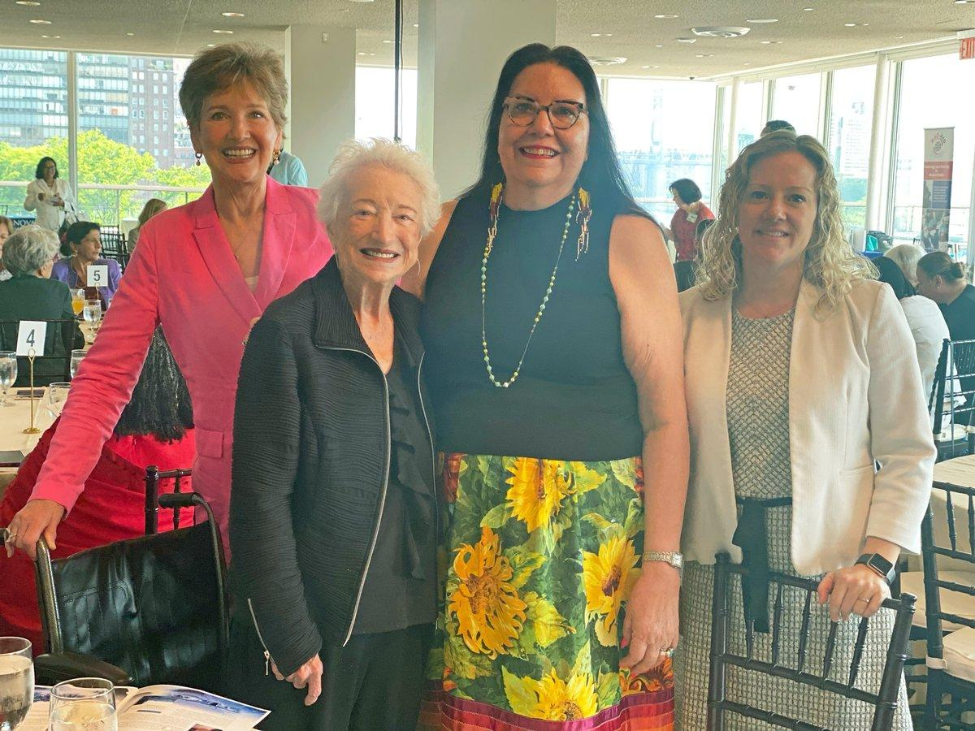 Cizik School of Nursing at UTHealth Houston leaders past and present converged on the United Nations in New York City on Friday, May 12, to celebrate Dean Emerita Patricia Starck, DSN, RN, FAAN. She and alumna Margaret Moss, PhD, JD, RN, FAAN, were among 13 people honored by Nurses With Global Impact, Inc., (NWGI) during the International Nurses Day event at the UN.
Vice Dean for Academic Affairs Cathy Rozmus, PhD, RN, FAAN, nominated Starck for her work in developing the documentary film "Caring Corrupted: The Killing Nurses of the Third Reich." Rozmus accompanied Dean Diane Santa Maria, DrPH, RN, FAAN, and former dean Lorraine Frazier, PhD, RN, FAAN, to the ceremony. Frazier is now the dean of the Columbia University School of Nursing in New York City.
"Dr. Patricia Starck is a nursing treasure," said NWGI Executive Director Patricia Sayers, DNP, RN. "We want the world to know about the film. This documentary should be seen in every school of nursing worldwide. The bioethical messages of this work are timeless and essential."
Production of the 56-minue film grew out of Starck's interest in rehabilitation and lifelong research focus on the alleviation of physical and psychological pain. Her mentor, Dr. Viktor Frankl, was a Jewish psychiatrist and neurologist who developed logotherapy as a rehabilitation method after surviving the Auschwitz death camp. Logotherapy is a future-focused approach that helps people find meaning in life.
Her work with Frankl inspired her to lead a team of scholars to produce "Caring Corrupted." This cautionary tale depicts the corruption of nursing ethics during the Nazi era. It is widely used as a teaching tool and is viewed by all Cizik School of Nursing students during orientation.
Starck shared the celebration with Moss, one of her former students, who is an expert in global indigenous health. Moss worked with other Native American nurses to author the text "American Indian: Health and Nursing." She is now Director of the First Nations House of Learning and an associate professor at the University of British Columbia, which nominated her.
"What a thrilling way to end National Nurses Week," Santa Maria said. "In her 30 years as dean, Cizik School of Nursing arguably benefitted the most from Dean Starck's 'global impact.' She has helped an incalculable number of patients, and her influence inspired Moss and thousands of other students to make a positive difference in the world."
NWGI sponsors the International Nurses Day event at the United Nations annually to commemorate the birth of Florence Nightingale, the founder of modern nursing. The organization recognizes and honors nurses in who demonstrate exemplary practice by impacting the global delivery of health care, celebrating their work and supporting their programs.
Learn more about Starck, Moss, and the other 2023 NWGI honorees.