McGovern Medical School student shares key takeaways from clinical rotation with Houston Texans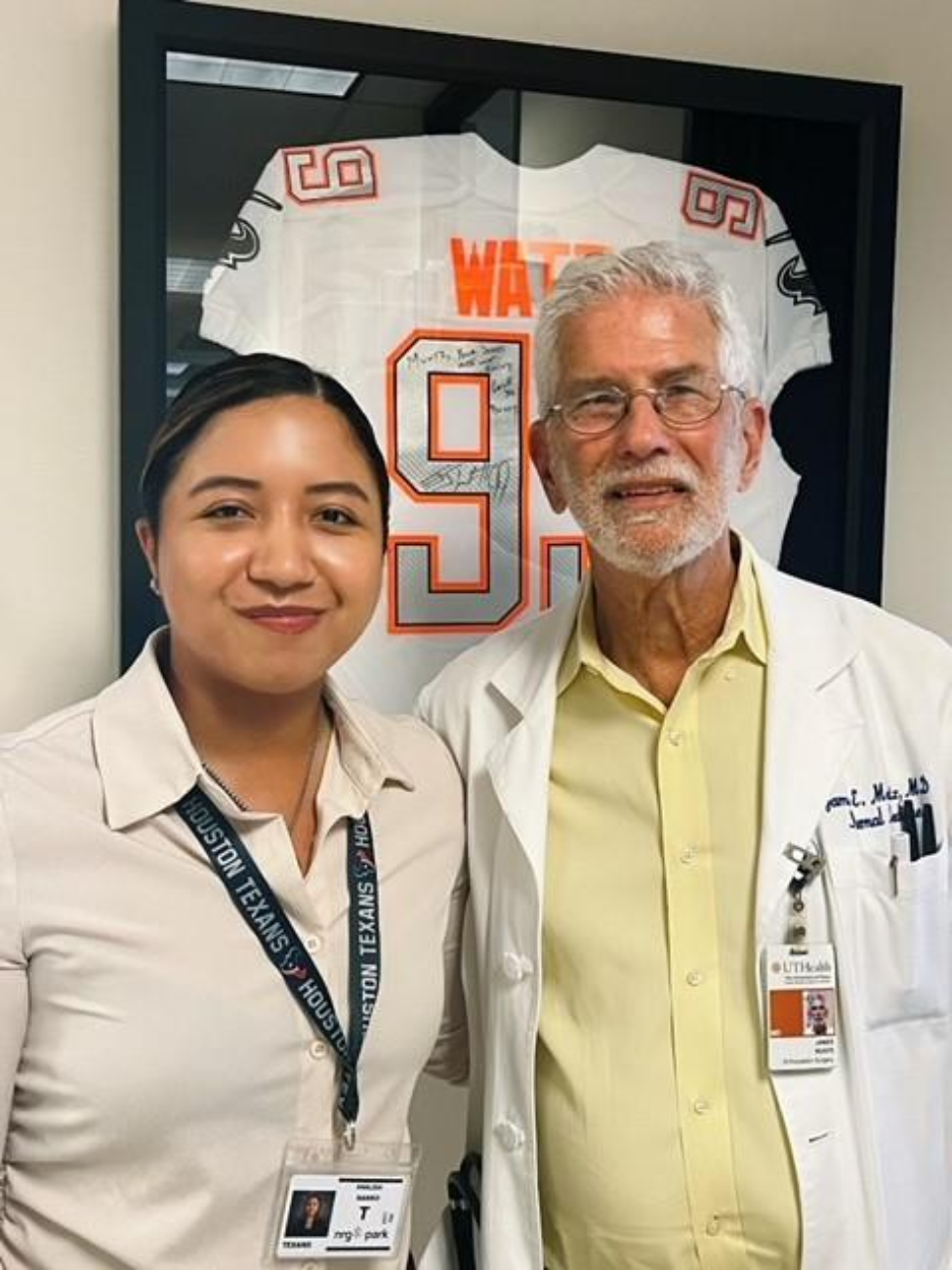 After a rare view inside the world of professional sports and orthopedic medicine through a clinical rotation with the Houston Texans this summer, Analisa Narro, a fourth-year student with McGovern Medical School at UTHealth Houston, brought back key lessons from the enriching experience.
The rotation was part of the NFL's 2023 Diversity in Sports Medicine Pipeline Initiative, which aims to increase and diversify the pipeline of students interested in pursuing careers in sports medicine and, over time, help diversify NFL club medical staffs. McGovern Medical School was among 19 medical schools in the U.S. to participate in the program in its second year.
During her month-long rotation, which ended Aug. 18, Narro observed and participated in the care of players, working directly with and under the supervision of orthopedic team physicians, primary care team physicians, and athletic trainers. She also learned return-to-play guidelines and on-field treatment considerations for NFL players.
"Being able to see sports medicine at such a high level was incredible," said Narro, a third-generation American from San Antonio, whose family is originally from Mexico. "It's like I had my very own tutor at all times teaching me the art of sports medicine."
A day in the life
A typical day at NRG Stadium involved Narro observing the attending physicians performing physicals on the Texans, after which she would stand on the sidelines during practice to monitor for injuries and observe any treatment of players. The athletic trainers also discussed a variety of sports medicine topics with Narro, ranging from blood-flow resistance training to taping ankles, which Narro was able to practice on one of the trainers.
Additionally, team physicians discussed with her various orthopedic topics each day, including anterior cruciate ligament (ACL) reconstructions, posterior tibial slope, platelet-rich plasma (PRP) injections, and physical exam maneuvers, making the rotation one of the best learning experiences Narro said she's had to date.
One highlight of Narro's experience was being on the sidelines when the Texans played a preseason game against the Miami Dolphins on Aug. 19. Although the Texans lost that game, Narro said the memory will stay with her for a long time.
"I had never been to an NFL game before, but now I don't think I'll be able to match it," Narro said. "Getting to see the game so close, and how team physicians manage different injuries, was exhilarating and inspirational."
Making connections
When she wasn't at the stadium, Narro shadowed some of the team physicians and other orthopedic surgeons in clinic as well as the operating room, giving her a clearer picture of a career in sports medicine.
Some key connections she made included James Muntz, MD, professor in the Department of Orthopedic Surgery with McGovern Medical School and internal medicine team physician for the Texans; Steven Flores, MD, assistant professor and the sports medicine and shoulder fellowship program director in the department and head team orthopedist for the Texans; and Alfred Mansour III, MD, associate professor in the department and a team physician for the Houston Rockets.
"These are well-established attending physicians, all well regarded in the sports medicine arena, who would give me advice for my future in orthopedics and beyond," Narro said. "That was invaluable."
Diversity
Diverse medical students in training, including those training to become sports medicine-focused physicians, are historically underrepresented. But enrollment of diverse students is increasing, according to the Association of American Medical Colleges. During the 2022-2023 academic year, the number of Black or African American enrollees increased by 9%, and enrollees who are Hispanic, Latino, or of Spanish origin increased by 4%.
Since her rotation with the Houston Texans ended, Narro said many younger Hispanic women have reached out to her in an effort to build mentor-mentee relationships, which she looks forward to cultivating.
"Through this experience, I gained access to a level of sports medicine that isn't typically offered to Hispanic women," Narro said. "This makes me excited to see where diversity in sports medicine is heading."
Media Inquiries: 713-500-3030