McGovern Medical School students meet their matches March 17
Immigrants and children of immigrants – whose parents came to the U.S. for better opportunities for them – were among 242 students in the Class of 2023 at McGovern Medical School at UTHealth Houston who found out today where they will take the next step in their careers as physicians. They were joined by a former basketball star turned physician who is breaking barriers as a Black woman in surgery, a mother of two who already has a PhD behind her name, and other classmates who are dedicated to meeting the health care needs of those in Texas and beyond.
"This is the next big chapter in your career; a giant opportunity and change in your life. Medicine is the most noble profession in the world, and you have the pleasure of continuing that," said John M. Zerwas, MD, executive vice chancellor for health affairs at The University of Texas System, to the students, who were accompanied by approximately 700 family members and friends.
The majority of students, 144 (60%), will stay in Texas for their first year of postgraduate training; 66 (27%) matched to McGovern Medical School; and 103 (43%) matched to primary care specialties. Zerwas pointed out that 80% of medical residents stay in the state where they matched, so Texas will directly benefit from this next generation of physicians.
The students received their sealed envelopes one by one and then counted down before opening them simultaneously at the Denton A. Cooley, MD and Ralph C. Cooley, DDS University Life Center. Match Day is coordinated each year by the National Residency Matching Program as students across the country learn at the same moment the residency training programs to which they have matched.
Here are some of the faces in the Class of 2023 who will become physicians, helping bridge the gap in a shortage felt in Texas and across the U.S.: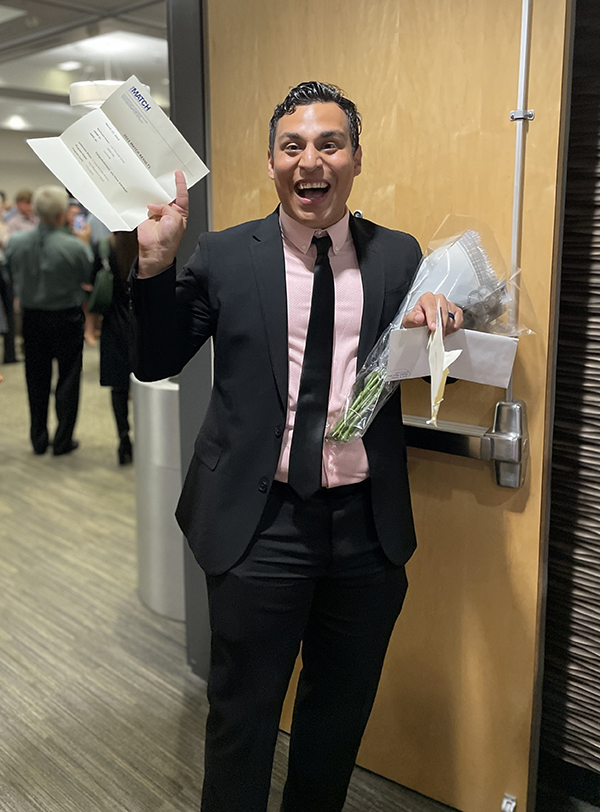 Luis Valdez
When he was 12 years old, Luis Valdez and his family migrated from Baja California, Mexico to San Antonio, Texas. Born to a mother who didn't finish middle school, and a father who stopped his education journey in elementary school – statistically, medical school seemed out of reach. But Luis, now 26, more than beat the odds and on Friday, he learned that he was matched with The University of Texas Health Science Center at San Antonio. "I feel amazing. You know it's been a dream to be able to help my community. That's something that I've always wanted to do, and I feel like it's just so full circle to be able to go back home and help those people who helped raise me and get me to this point," he said. As a first-generation high school graduate, Luis attended The University of Texas at Austin where he initially thought he would pursue a career in public health. But after completing a summer research project in the Rio Grande Valley, he shifted gears and decided to apply for medical school. "During that visit, I got to see a lot of people who were not receiving the appropriate care they needed and deserved," Luis said. "It shocked me and motivated me to pursue medicine." In 2019, Luis began his journey at McGovern Medical School where he joined the Latino Medical School Association (LMSA), serving in several positions, including co-director of the LMSA Southwest Region. He was able to implement new initiatives to improve diversity, equity, and inclusion for underrepresented minorities pursuing a career in medicine. He organized community service opportunities including Christmas at the Border, where they raised funds to buy gifts for children separated from their parents. Luis also served with the Frontera de Salud organization, taking yearly mission trips to the Rio Grande Valley to help provide free checkups and health screenings to those in need of care. "It was a beautiful experience to be able to go back to the RGV. That is where I decided I wanted to pursue medicine, so being able to go and give back was beautiful to me," Luis said. In 2020, during the COVID-19 pandemic, Luis helped launch a mentorship program to assist underrepresented pre-med students through the medical school application process. He credits Latanya Love, MD; Pedro Mancias, MD; and Nahid Rianon, MD, for their mentorship throughout his time at McGovern Medical School. "My biggest fear going into medical school was not being well connected to get what I needed. I knew it was important to make those connections early on. Dr. Love and Dr. Mancias welcomed me with open arms, and were always there to listen and help with any ideas I had. Dr. Rianon really helped develop the research side of me and has been an incredible and valuable resource," he said. Luis will soon begin a career in Physical Medicine & Rehabilitation where he says he will continue to serve the underserved in the community. "I am grateful for this opportunity, and I am proud of myself for all I have accomplished and how far I've come," he said. "As the oldest child in my family, I have really set an example for my younger siblings. If my mom hadn't made the bold decision to move us to Texas, who knows what would have happened. I am incredibly grateful for my mentors, my mother, and my wife."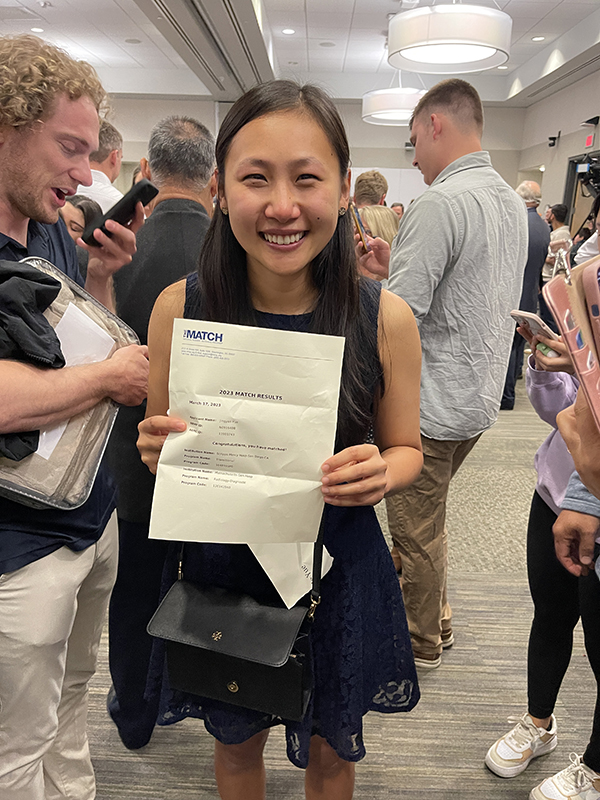 Jingyan "Jingle" Yue
Jingyan "Jingle" Yue, 29, is no stranger to reaching life-changing feats. She moved from China to California when she was 6 years old and overcame language barriers by learning English while attending elementary school in a new country. Later, she moved to Houston and graduated from Memorial High School. After receiving a chemical engineer degree from The University of Texas at Austin, she worked in the engineering field for nearly three years and began volunteering at a hospice. She sat with patients, participated in activities, and provided them with comfort in their last months of life. The connection between patients and doctors inspired her decision to switch careers and enroll in medical school. "It was extremely rewarding and I really wanted to be able to do more. The interactions between a patient and physician are unique and something that I found to be powerful," she said. The many opportunities, supportive faculty, and overall welcoming culture drew Jingyan to McGovern Medical School. She found a mentor in Hilary Fairbrother, MD, for guidance and someone to lean on during high-stress moments. "She would always tell me and the students to reach out to her no matter how busy she was. Dr. Fairbrother supported me, and I'm grateful for her," she said. Jingyan, the first in her family to go to medical school, took advantage of the four-week pre-entry program offered by the school. There, she met professors and attended lectures to help her establish fundamentals early on. "I think it is an awesome program that McGovern offers. It helped me get more comfortable and find a group of close friends that I will be graduating with," she said. Jingyan was also involved in the American Medical Association and Texas Medical Association. She took the opportunity to further expand her passion in advocating for patients by making proposals for policy changes such as pushing for more in-person interpreters in emergency rooms and home health education for patients. Community advocacy is important for Jingyan as she recalls moving to the country as a child and not understanding her surroundings, and can relate that experience to patients within the complex system of health care. "Some patients don't understand what's happening; especially if they don't speak English, the health care system can be overwhelming for them," she said. At the intersection of her love for technology and practicing medicine, she decided to pursue a residency in radiology. She credits Emma Ferguson, MD, for helping her with the residency selection process. Jingyan foresees becoming involved in pushing for the expansion of radiology and imaging in areas of the world where there is a need for better training and resources. Today she learned she matched to Massachusetts General Hospital. "I got my first choice, and I never thought I would be here now," she said. "I am so excited to be going to Massachusetts. Once I am done with my residency, I want to come back to Texas. I hope my siblings choose medicine and I can be there to show them that they can do it, too."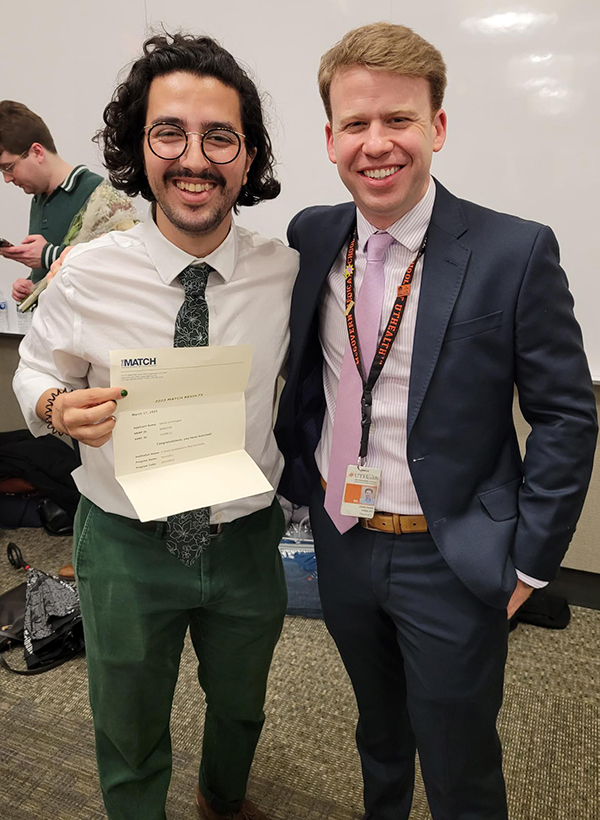 Seena Ounsinegad
As the child of immigrants from Iran, a proud gay man, and someone who watched a family member struggle with mental health, Seena Ounsinegad found his niche in the medical field at the crossroads of behavioral health care and minority populations. Today, he learned he matched at The University of Texas Southwestern Medical Center in psychiatry. "This is one of the best programs in the country," Seena said. "I am so excited to match to a top-notch program with access to community and psychotherapy training." Seena will enter a field that is sorely in need of mental health specialists in Texas and across the country. "I have been interested in the workings of the brain, psychology, and human thought and behavior," said Seena, 25, who was born in the Washington, D.C. area and grew up in Austin. "I was inspired to apply for a psychiatry residency because my family has a history of mental illness, and experiencing that second hand, seeing the cultural stigma in an immigrant family, was the intersection that drove me into being passionate about mental health." Seena obtained his bachelor's degree in neuroscience at The University of Texas at Austin before coming to McGovern Medical School, where he began volunteer work with survivors of sexual and domestic violence. He is also passionate about improving the lives of immigrant and refugee populations, and LGBTQ+ populations. He began researching nonconsensual sexual experiences in men and the resulting sexual violence impact on mental health, publishing a thesis on the subject in 2019. Seena has continued his research at McGovern Medical School and is working toward publication in a peer-reviewed journal. As an advocate for the LGBTQ+ community, Seena was president of the LGBTQ+ student organization in his second year, is an active member of the UTHealth Houston Pride Committee, and has led projects and initiatives for LGBTQ+ visibility, curriculum reform, and quality improvement. He was also a committee leader for Out for Health, an annual LGBTQ+ health conference led by Texas medical students, which was held virtually at McGovern Medical School in 2021. Seena found a strong mentor in J. Chase Findley, MD, associate professor of psychiatry and assistant dean of accreditation and educational quality improvement at the medical school. Findley is the faculty advisor for the Student Interest Group in Neurology and Psychiatry, which is co-led by Seena. "I approached Dr. Findley early on, and he has connected me to others who have become mentors of mine," Seena said. "I have worked on several projects with him, and he has been an endless source of support. I cannot sing his praises enough."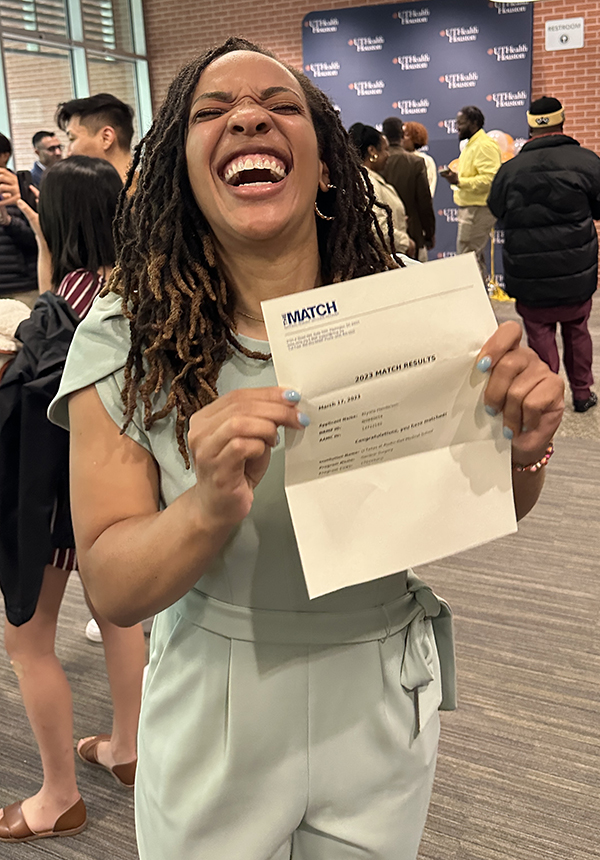 Krystle Henderson
As captain of the women's basketball team at The University of Texas at Austin, Krystle Henderson became well acquainted with the importance of discipline, commitment, communication, and, of course, leadership. While she's been retired from the sport since a season-long stint playing professionally in Morocco, Krystle still fully expects to put these skills to use in the operating room as a surgeon – a longtime dream of hers. She will begin that dream at The University of Texas at Austin Dell Medical School. "I am ecstatic; it was my No. 1 choice. I am happy to be going back and serving the community that supported me as an athlete. I have a great support system there and I am just anxious to get started" said Krystle, 31, who is from an underserved community in Dallas. "Surgery interested me because of its intensity and the unique opportunity to use my hands to provide definitive treatment, and I wanted to be in a position where I'd have to think quickly on my feet, like in athletics. Surgeons are leaders, but they also have to be team players, which is something I learned as a point guard in basketball, too." When she joined McGovern Medical School in 2019, Krystle became the first person in her family to attend medical school, and she will also be the first doctor. Krystle believes her experience as a Black woman in general surgery will bring a unique perspective to her colleagues and patients. "I feel like I represent a community of African Americans, so it's important, especially in spaces that are predominately white and male, to share my perspective, be a voice for the voiceless, and make sure I'm advocating for all patients," she said. With this in mind, Krystle is particularly grateful for the inspirational mentor she found in Ritha Belizaire, MD, assistant professor in the Department of Surgery and a Black, female colorectal surgeon who is also a former college athlete. Krystle is involved in the Student National Medical Association, which supports minority students, and previously participated in the Summer Health Professions Education Program, a six-week course for underrepresented undergraduate students interested in health professions. Additionally, Krystle's time in an Arabic-speaking country enlightened her on some aspects of the patient experience. "It allowed me to put myself in the shoes of someone who speaks a different language," she said. "Even if a patient doesn't look or sound like me, it's critical for me to understand where they're coming from and their concerns to ensure I'm incorporating cultural competence when treating them." Though torn between pursuing a career in cardiothoracic surgery or trauma surgery, Krystle is certain about one thing: She wants to serve as a mentor for others. "I hope my story is able to inspire others who look like me to be able to dream outside the mental boundaries we have in our community."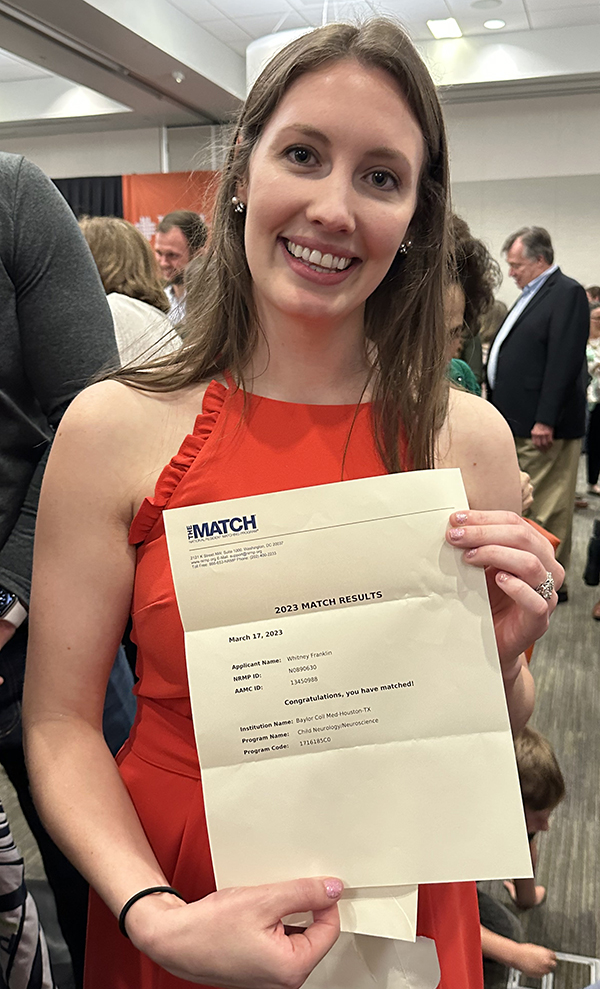 Whitney Franklin
Becoming a physician-scientist was a goal Whitney Franklin, PhD, 31, didn't fully realize she wanted until after earning a PhD in neuroscience from the University of Texas Medical Branch in Galveston. Although Whitney, who had previously received her bachelor's degree in biochemistry from The University of Texas at Austin, loved research, she longed for a closer connection to patients, leading her to pursue an MD at McGovern Medical School. Despite her rigorous schedule, Whitney enjoyed seeing medical school through the eyes of her two children, who played with her stethoscope as she practiced exams on them. "Parenthood just enhances your medical training," said Whitney, who has a 4-year-old son, Logan, and 1-year-old daughter, Avery, with her husband, Jimmy Sethna. "When you have kids, there isn't an option to fail; you have to make it work. My children motivate me to do well." Whitney's children also motivated her to co-found Parents of McGovern, a student organization dedicated to connecting fellow student-parents with resources ranging from lactation rooms to information about maternity leave, along with other resources Whitney sought when she was pregnant with her daughter during her second year. Additionally, Whitney's maternal experience has come in handy during her clinical rotations, particularly in her preferred specialty of pediatric neurology. "For parents whose child is battling a neurological disease, it's very emotional, and I can empathize with their situations. Especially when I see kids who are the same ages as mine – it's so easy for them to be my kid, which has helped guide my interactions with parents." She credits Mary Kay Koenig, MD, director of the Center for the Treatment of Pediatric Neurodegenerative Disease at UTHealth Houston, as an invaluable mentor throughout her time in medical school due to Koenig's ability to seamlessly balance her research and clinical work – an equilibrium Whitney also hopes to strike in her career. She takes that next step at Baylor College of Medicine. "I am beyond happy to match at Baylor into their child neurology/neuroscience program that is for MD/PhD students," she said. "It is still a five-year program but allows me one year of research time. It is absolutely perfect for what I am wanting for my career as a physician-scientist. Plus, all of my family, husband, and in-laws are so thrilled and relieved to keep us in Houston, so that is a huge bonus."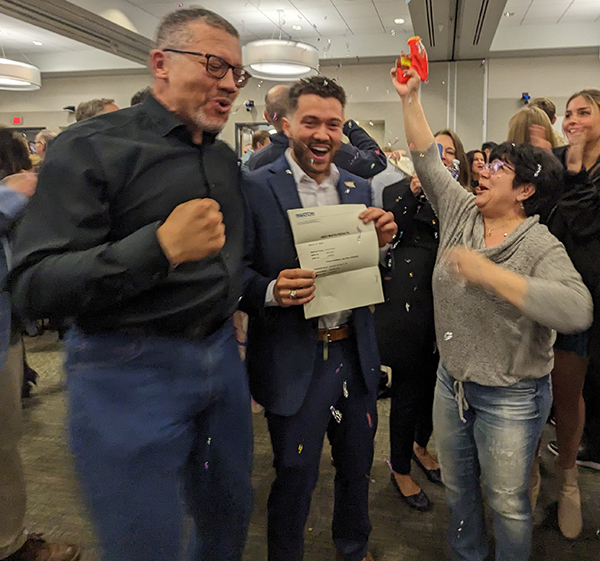 Kamal Phelps
From a young age, Kamal Phelps, 25, has been exposed to medicine. The Thousand Oaks, California native, whose family relocated to the Dallas area when he was a toddler, grew increasingly familiar with hospital visits after an aunt moved from Iran to live with Kamal's family in Texas to undergo treatment for ovarian cancer. "Seeing the fantastic care my aunt was given throughout her entire treatment is what really sparked my interest in medicine," Kamal said. "As I progressed through school, I realized that mentorship is also something of high importance to me, and I look at medicine as a way to further along mentorship." After attending The University of Texas at Austin on a full-ride scholarship, where he majored in biology and minored in business, Kamal was accepted into McGovern Medical School in fall 2019. But his life changed forever when, as a first-year medical student, Kamal was paired with a sophomore at Rice University through the Big Owl/Little Owl Program, a mentorship program that connects small groups of pre-medical students with medical students, physicians, and residents. Sadly, about a year into the program, Kamal's mentee was diagnosed with an inoperable brain tumor. Her family allowed Kamal, who by that point had become friends with their daughter, to accompany them to her medical appointments, including chemotherapy treatments, physical therapy, and occupational therapy. Witnessing the patient experience from her perspective made Kamal even more determined to make a difference in the lives of patients with neurological diseases. Sadly, his mentee died in January 2023. "I'm grateful for the time I got to spend with her and her family," Kamal said. "Over time, our mentor/mentee relationship changed. She taught me so much more than I ever taught her." Others have mentored Kamal along his educational journey, as well, particularly Louise McCullough, MD, PhD, and Amalia Guardiola, MD. In school, he's been involved in Student Ambassadors and served as a fourth-year interviewer for incoming medical students. Kamal will be pursuing a career in pediatric neurology, beginning with a residency at Vanderbilt University School of Medicine. "I'm excited and shaking. There's a lot of emotions all at once. All our work came for this singular moment," Kamal said after opening his envelope. He wants to map the parts of the brain where patients' epilepsy originates, thereby helping neurosurgeons treat children with medication-resistant epilepsy. While the career path would allow Kamal to stay connected with his initial passion of neurosurgery, pediatrics in particular provides him an avenue to further provide care and education to a larger group. "In pediatrics, you get to educate an entire family rather than just a single patient," he said. "You treat the entire family unit."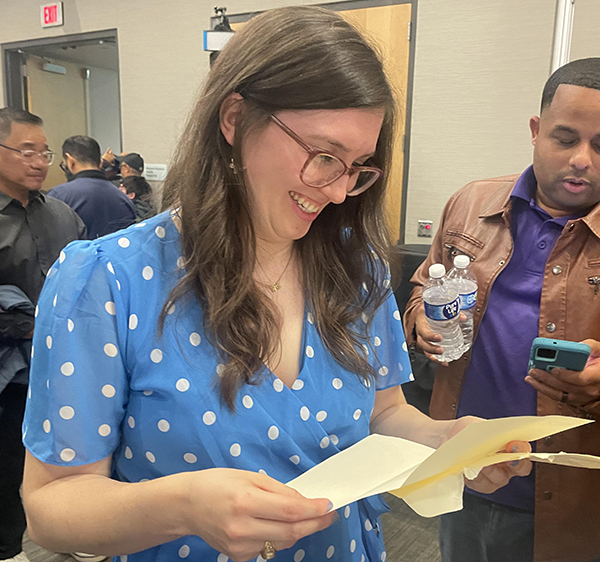 Savannah Cruz
Savannah Cruz, 25, knew she wanted to practice medicine when she was 13 years old. While growing up in Porter, Texas, she was immersed in the health care world while attending her father's many doctor appointments during his treatment for astrocytoma, and eventually glioblastoma, a type of fast-growing brain cancer. She quickly became acquainted with the team of physicians, nurses, and other health care professionals. With an established interest in science, she recalls her curiosity in wanting to know more about the physician-to-patient relationship and communication at that young age. "I was interested in learning about how a physician can have an impact on how the patient feels about their treatment, their level of comfort, and their overall outlook," she said. While completing her pre-medicine program in college, she shadowed many different family medicine physicians at Baylor University. There, she talked with doctors about their personal goals, opportunities, and medical school. Savannah's father sadly passed away the summer before her junior year of college. The experience of doctors walking him through his care led her to selecting a family medicine residency, and she learned today she will stay close to home at Conroe Regional Medical Center. "I'm excited," she said. "It has an awesome clinic, it's near family, and it's an underserved population." Her goal is to provide longitudinal care to an entire family and bring comfort and care to her patients. "I saw physicians at McGovern Medical School walk people through their health obstacles and members of the team work together to offer their patients comfort through the care they gave them," she said. Savannah is a member of the Student Committee on Professionalism and Ethics. She helped promote an atmosphere of professionalism and ethical behavior among her peers and learned about developing a professional identity. She credits receiving assistance and encouragement from Dana McDowelle, PhD, and Shira Goldstein, MD, who both guided and sponsored her through her residency selection and application. "They helped me so much during the interview season and answered my questions along the way," she said. Savannah is looking forward to providing patient-centered care. She is the first person in her family to attend medical school and is grateful for the support she had received from her father and continues to receive from her mother, stepfather, grandparents, siblings, and friends. "My family has been supportive of me since I showed interest in medicine. They make sure that I have what I need and I'm thankful for all of them," she said.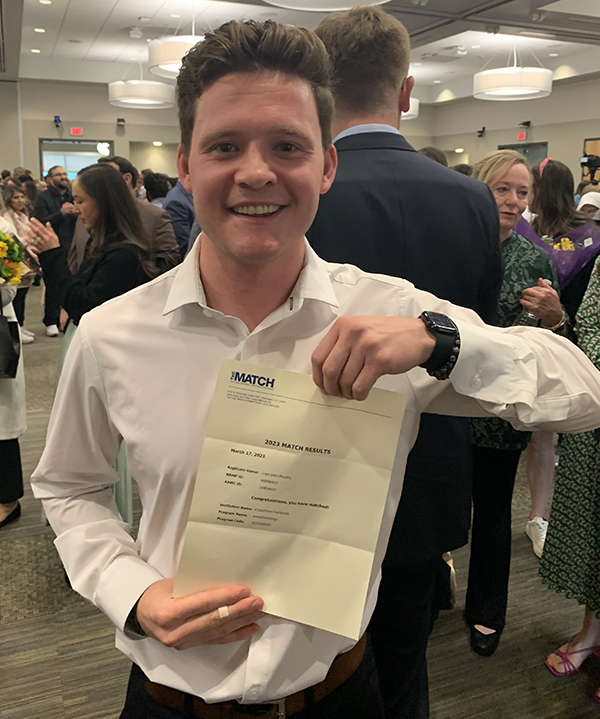 Liam Murphy
Liam Murphy, 26, arrived into the world as a blessing of modern medicine. His mother Julie, who had cystic fibrosis, couldn't carry children because of the burden on her already-scarred lungs. So, through in vitro fertilization, his aunt carried Julie's triplets, including Liam. Sadly, even after a lung transplant, Julie died when the triplets were 3. Two years later, his father, John, married Bari Murphy, who received her undergraduate degree from The University of Texas at Austin and her master's degree from the University of Houston, both in psychology. She instilled into Liam, who was born in Glen Ellyn, Illinois, a lifelong love for the Texas Longhorns and inspired him to attend UT Austin, where he received a bachelor's degree in psychology. Liam spent a gap year receiving a master's degree in physiology from Georgetown University and then found himself following in Bari's footsteps to Houston, selecting McGovern Medical School because of its welcoming atmosphere and collaborative attitude, he said. He has been active as a member of the McGovern Medical School Student Committee on Professionalism and Ethics, and is co-president of Student Ambassadors. Because he has always enjoyed working with children – he was a youth soccer referee and baseball umpire – Liam initially thought he wanted to do pediatric surgery. "But the surgeon life was not for me," Liam said. "I thought about general pediatrics, but I felt like something was missing, and then I took an elective in pediatric anesthesiology. By the second day, I knew that was what I wanted to do after I watched the attending work with a 6-year-old, talking to her and helping her pick out a flavor for her mask." He will take the next step in his career at the University of Southern California. "I was shaking and couldn't get the envelope open," Liam said. "I am really happy. USC was one of my top choices so I was thrilled to end up there. I think it's going to be a good next four years." His mentors at McGovern Medical School were Sandra McKay, MD, associate professor of pediatrics (he is a co-author on several of her papers about child health and gun violence), and Lauren Brollier, MD, assistant professor of anesthesiology. Eventually, he said, he might want to become a transplant anesthesiologist, helping others undergoing surgery as his mom once did. "That would be full circle for me," Liam said.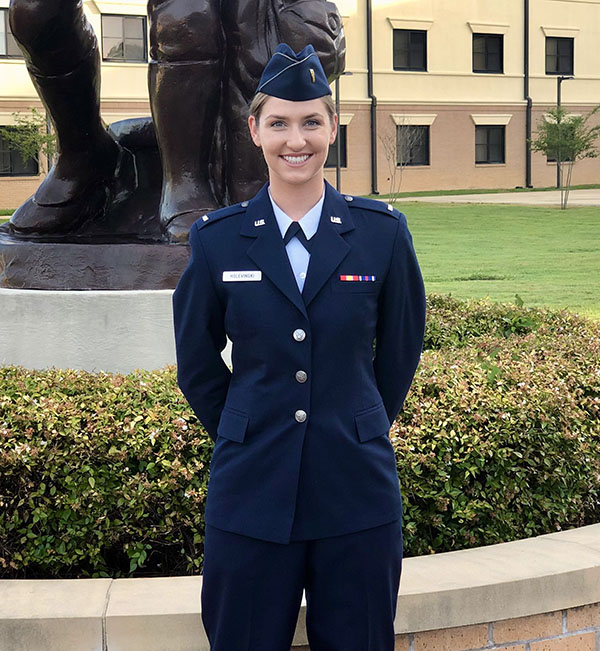 Sarah Holevinski
As the rest of the country watched in disbelief at the destruction of Hurricane Harvey in 2017, Sarah Holevinski, now 26, was focused on one thing: the men and women involved in the search-and-rescue efforts. "Mr. Rogers had a famous quote: 'Look for the helpers. You will always find people who are helping.' His words really resonate with me because at the heart of all of this, I just want to be one of those helpers," said Sarah, who graduated from Klein Oak High School. "I want to help people and it was usually the military leading the way, as well as doctors and first responders." While attending Baylor University for her undergraduate degree in vocal performance with a minor in biology on a pre-med track, Sarah was introduced to military medicine at Baylor's Pre-Health Day. "At the presentation, we were shown pictures of physicians flying in aircraft helping with search-and-rescue efforts, and that's when the light bulb went off in my head that this is exactly what I've been wanting to do," Sarah said. In June, Sarah will start her emergency medicine residency at Brooke Army Medical Center in San Antonio as a captain in the United States Air Force. Unlike their civilian counterparts, students pursuing careers in military medicine receive their assignments months ahead of time. "The military does a fantastic job of making it their business to create leaders and team members and I knew I wanted to be crafted by that environment," Sarah said. "My dad always told me, 'You are your environment.' That helped me choose my undergraduate university, which helped me choose McGovern Medical School, and that helped me choose to go into the military, because you want to surround yourself with inspiring people. I am honored to say it has been these amazing people I have met along this journey who have gotten me to where I am today."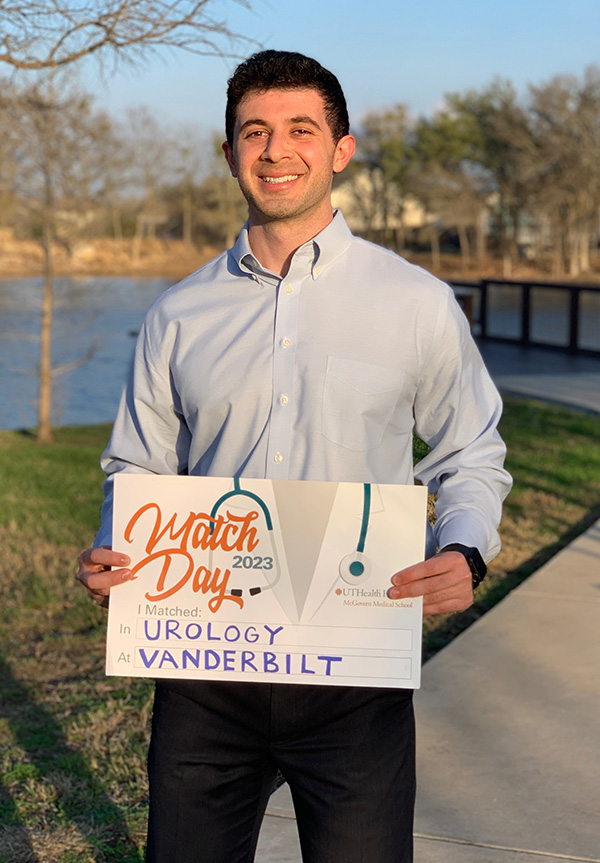 Justin Mehr
Growing up, Justin Mehr, 26, always had a basketball in his hand. From playing the game at a young age, all the way through college where he was the team manager for the men's basketball team at University of California Irvine, Justin was inspired to find that same passion he had for the game in medicine. "I found a lot of parallels between basketball and medicine," said Justin, who is originally from Mission Viejo, California, and graduated with a biology degree. "The empathy needed in coaching, the humility needed in doing anything for the team's greater good, passion, sacrifice, and discipline were things I sought in the work I wanted to do in life as a physician and surgeon, which kept those same team dynamics but added in the fascination I had with health, helping others, and the human body." After losing family members, including his grandmother, to ovarian cancer, Justin knew he was interested in oncology. When a research project in pediatric oncology was cancelled due to the COVID-19 pandemic, Justin found a project in bladder cancer, which introduced him to urologic oncology, ultimately introducing him to urology. "For the past three years, we have been working on a lot of post-cancer, men's health issues, a topic I became super passionate about because there is a lot of talk about cancer in terms of whether the cancer has been cured or managed, but a lot of the times the lifestyle factors or life after that treatment flies under the radar," Justin said. He said there are many doctors he admires from UTHealth Houston, including Run Wang, MD. "I have gotten to work very closely with Dr. Wang, and he, along with residents and all of the faculty at McGovern, have been truly incredible." Justin will be heading to Vanderbilt University in June. His chosen field, urology, is one of the three residencies that match early.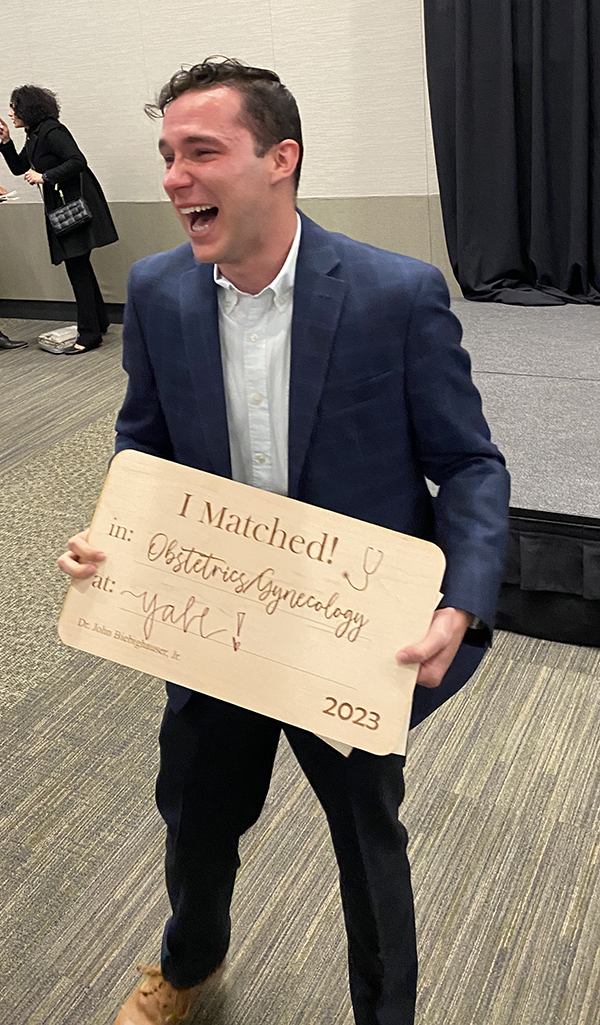 John Biebighauser
John Biebighauser, 25, always knew he wanted a career in medicine. After high school, John attended Texas Christian University where he obtained a degree in neuroscience and hoped to follow that path at McGovern Medical School. However, a rotation in obstetrics and gynecology made him realize he was meant to change directions. As the only brother in a set of triplets born through in vitro fertilization (IVF), John will be the first physician in his family, becoming the same kind of doctor that helped bring him into this world. To John, this is a full circle moment. "In retrospect, it's the perfect fit," John said. "I was an IVF baby, and the stories I heard growing up about the experiences my parents had with fertility care stuck with me. To me, OBGYN is the best field – I will get to see patients in clinic, operate on them, deliver babies, and it's an opportunity to care for a patient from birth to graveside. It's everything I wanted." During his four years at McGovern Medical School, John served as class president, helping plan class events and volunteer opportunities, and even served on the student senate committee. "It's been fun being able to serve as a representative for my fellow classmates. It's been cool to see two different perspectives, one as a medical student, and I also get to see how things go in the background with the administration side of things," John said. He credits mentors Rachel Jantea, MD, assistant professor of geriatrics and palliative care, and Elizabeth Nugent, MD, associate professor of obstetrics, gynecology and reproductive sciences, for their enduring support throughout his journey at McGovern Medical School. John discovered today that he matched to Yale New Haven Hospital School of Medicine. "I am in awe of what just happened," he said. "I cannot believe I matched to Yale. I could not be more excited. It's going to be an incredible place to learn and the support will be tremendous."