Cizik School of Nursing awarded $2.6 million federal grant to fund scholarships for nurse practitioner students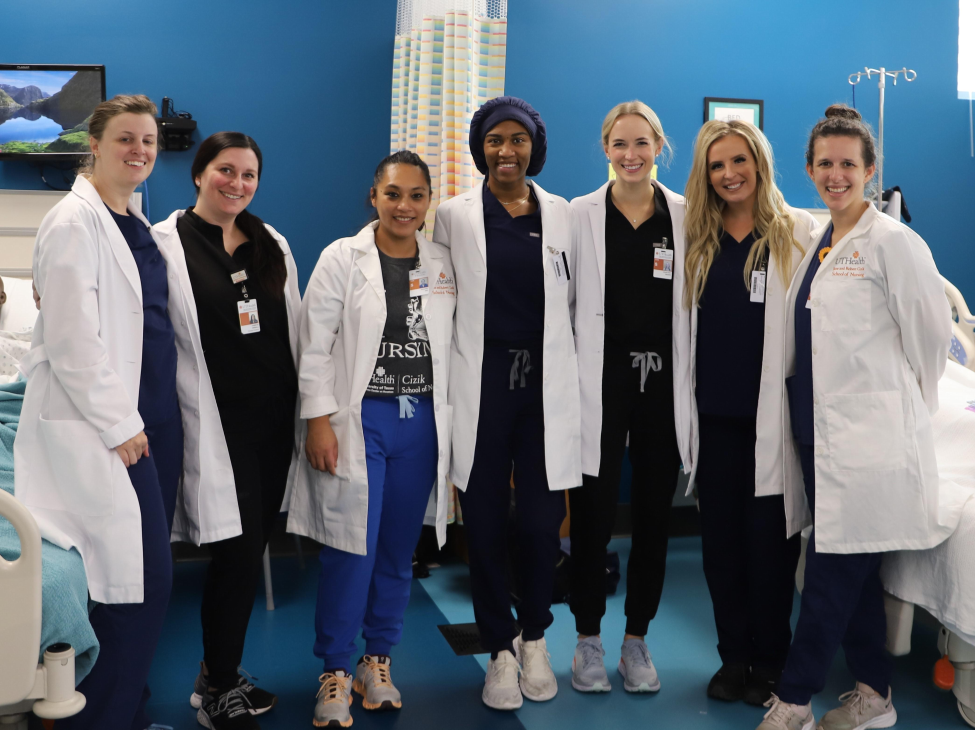 A new four-year grant from the Health Resources and Services Administration (HRSA) of the U.S. Department of Health and Human Services will provide financial support to 25 nurse practitioner students per year at Cizik School of Nursing at UTHealth Houston.
The $2.6 million award will fund scholarships and stipends for eight full-time and 17 part-time student trainees annually in the family nurse practitioner, psychiatric/mental health nurse practitioner, and adult/gerontology primary care nurse practitioner tracks of the Doctor of Nursing Practice program. The grant also will enable the school to expand curriculum, strengthen academic-clinical partnerships in underserved rural and urban areas, and provide professional development for preceptors and faculty.
The goal of the project, Augmenting Teaching and Learning for APRN Student Primary Care Training (AT LAST), is to increase the number of nurse practitioners prepared to provide primary, mental health, and substance use disorder care in medically underserved areas.
"Many health departments and clinics in underserved areas were not able to host our students during the pandemic," said Susan Ruppert, PhD, RN, project director and associate dean for graduate studies at the school. "Under normal circumstances, a large proportion of our students would go to work in such settings, but fewer have done so since 2021. This grant will give us the resources to support our students, clinical partners, and faculty to expand access to health care for these underserved populations."
Efforts will focus primarily on the nine counties within the Houston metropolitan statistical area and secondarily on rural areas throughout Texas.
"Houston is the fourth largest city in the nation, and there are many underserved and under-resourced communities within Harris County," Ruppert said. "Furthermore, as soon as you step over the county line and lose access to the Harris Health System, resources drop considerably."
Features of the AT LAST project include:
Incorporating the newly developed "Vulnerable Populations" course into the DNP curriculum.
Providing clinical immersion experiences in underserved primary care settings for 360 of the 1,020 clinical hours required for the DNP program.
Developing faculty workshops and online continuing professional development activities, including courses that can prepare faculty, preceptors, and other advanced practice nurses to take exams to become a Certified Rural Health Clinic Professional or a Certified Addictions Registered Nurse-Advanced Practice.
Establishing an advisory council comprising faculty leadership and academic-clinical partners, as well as Assistant Professor Elizabeth Ellis, DNP, RN, a rural health expert who joined the Cizik School of Nursing faculty in March 2023.
Current students in these program tracks in their degree programs may apply beginning in August with the first round of scholarships to be awarded for the Fall 2023 semester. Full-time students with an interest in working in rural and urban underserved areas may apply during the first or subsequent semesters of the DNP program. Scholarships will be awarded to part-time students as they enter the last 12 months of the program to provide financial support as they complete their clinical requirements.
"We live in the most diverse city in the nation and work in the Texas Medical Center, which is home to some of the most advanced and innovative health care resources in the world. However, one in five Harris County residents do not have health insurance, and language and cultural barriers can also limit access to care," said Diane Santa Maria, DrPH, MSN, RN, dean of Cizik School of Nursing. "This HRSA award will prepare our equally diverse DNP students to help fill growing health care gaps in Southeast Texas and across the state."
Co-investigators on the grant are DNP program co-directors Kathleen L. Siders, DNP, RN, and Latarsha S. Cheatham, DNP, RN; family nurse practitioner track coordinator Kala A. Christopherson, DNP, RN; psychiatric health nurse practitioner track coordinator Kelly D. Kearney, DNP, RN; and adult/gerontology primary care nurse practitioner track coordinator LaDawna Goering, DNP, RN.